Blueberry Top-Up Vouchers
                                                                             YOUR SMART PAYMENT SOLUTION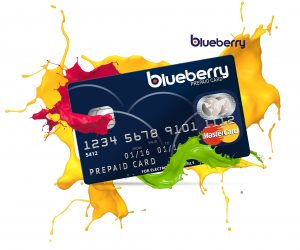 SECURE. SIMPLE. FLEXIBLE
Blueberry Payment Solutions is a simple, smart and secure solution which combines the use of an Electronic account, Prepaid Mastercard and E-Money Vouchers. The system gives you the opportunity to manage your payment transactions instantly and cost effectively. Once your Blueberry Mastercard is activated, you will be issued with a personal Blueberry E-Wallet account, both are re-loadable and can only be accessed by the user to make instant payments and transfers. All funds between your Blueberry E-Wallet and your Blueberry Prepaid Mastercard are transferable.
Your Blueberry Prepaid Mastercard can be used safely to make purchases at retail and online stores worldwide, also to withdrawal funds from ATM, wherever the "Mastercard" logo is displayed.Blueberry Prepaid Mastercard uses 3D Secure technology, as well as Chip
and Pin.  Your Blueberry E-Wallet account is a separate payment solution with its own account balance and can be loaded using Blueberry E-Money Vouchers.   Use your Blueberry E-Wallet account to make instant payments on all websites displaying the Blueberry logo.  Blueberry E-Money Vouchers and Mastercard can be purchased from any of the 1400 retail stores displaying the 'Mobee Payments' logo.
                                               MAKE YOUR SPENDING MORE CONVENIENT AND SECURE WITH BLUEBERRY!
                                                 Purchase and activate your card by visiting our website: www.blueberrycard.com
Customer Service: 26257888 / 70007677
| Top-up | Barcode |
| --- | --- |
| €10 | 5211244000106 |
| €20 | 5211244000205 |
| €50 | 5211244000502 |
| €100 | 5211244001004 |
| €250 | 5211244002506 |